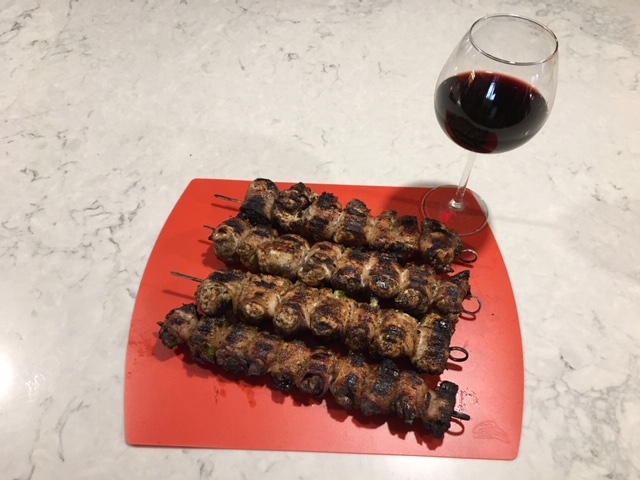 Tim Kraskey

Hits: 243
Cajun Dove or Pheasant Poppers
Tim Kraskey

Hits: 243
These are a great starter or appetizer for any meal – you will not believe how good these are! This recipe is better with a darker meat like doves or pigeon, but you can also use pheasant, small guinea hens, goose or duck. If using pheasant, keep the pieces to about 1-inch thick. You are just trying to cover the date or fig with meat. One thing I need to try is a small piece of goat cheese to add another layer of flavor to this recipe.
Ingredients
8-12 dove or 2-4 pheasant breasts (can substitute other fowl or game)
Dried figs or dates, cut in half
1-2 jalapenos, cut into matchstick pieces
4-6 slices of bacon, cut in half
Skewers
Cajun Marinade
½ cup olive oil
¼ cup of fresh lemon, lime or orange juice
¼ cup red wine vinegar
2-3 garlic glove chopped
1 bay leaf
1 teaspoon oregano
1 teaspoon thyme
1 teaspoon Italian seasoning
1 Tbsp. onion powder
2 teaspoons seasoned salt
2 teaspoons paprika
1 teaspoon black pepper
½ - 1 teaspoon cayenne pepper (more the hotter)


Cooking Directions
Combine all marinade ingredients in a bowl and mix. Set aside.
Each dove or pheasant breast should be de-boned and cut in half along the breastbone line. You should have two pieces from a single dove breast or long strips 1x2x1⁄2-inch of pheasant breast, preferably with the skin intact. Cut dates or figs in half, and place one half of a date or fig and one piece of jalapeño in the center of the breast. Wrap each breast with half a slice of bacon and place on skewer. Repeat for the rest of the breasts.
Place the skewered breasts in a shallow dish or zippered plastic bag. Pour marinade over the skewered breasts and place in the refrigerator for at least 2 hours. Turn the skewers after 1 hour.
Pre-heat the grill or oven to 425°F. Place each skewer on the grill at medium heat or in the oven and cook until the bacon starts to crisp (about 5 minutes per side on the grill or 10-15 minutes in the oven). If using a grill, lay tin foil down so the bacon grease doesn't start a fire, or cook on indirect heat. The bacon should be crispy, and the dove should be about 150°F in the center
or 155°F in the center for pheasant. Rest for 5-10 minutes and serve while hot.
Yield: 8-12 servings
Preparation time: 60 minutes
Cook time: 20 minutes